Bathrooms are not something anyone should take lightly. They are a vital part of any community area, workspace, or residential housing. This is why BMarko Structures is a leader in modular bathroom manufacturing. We want to ensure your users stay comfortable when using the bathroom. Fast, high-quality builds off-site in our factory mean less disruption on-site. Read below to learn more or get in contact with us for a free quote.
Fill Out Our Contact Form Below To Get Started!
Although we don't often think about it, bathrooms are one space that must be everywhere in society — in public and private places alike. People run to the restroom any time of day for many reasons, which requires facilities to have them at the ready.
Make the addition of your public or commercial bathrooms easier with a modular option. These spaces are mobile, so you can move them wherever you need facilities. They also have a durable construction that will last and cost less than site-built alternatives. If you need to add bathrooms, consider fully customizable modular restrooms.
What Are Modular Restrooms?
In a 2018 survey of architects, contractors and engineers, more than 87% said they outsourced at least some of their building's construction to offsite work due to offsite construction's many benefits. Modular bathrooms can be one element of this offsite construction plan.
Manufacturers create modular restrooms by piecing together interior fixtures and components such as the walls, floors and ceilings. Once the finished bathroom modules arrive onsite, workers fit them onto the building and connect them to the main construction's electricity and plumbing.
Prefabricated bathrooms allow for faster completion of your project because the manufacturer can work on all its parts at once. They can put together all the rooms and install fixtures in them at the same time. This process hastens construction and requires only piecing the components together on site.
Choosing modular commercial bathrooms for your construction allows you reap numerous benefits including faster developments and customization ability for fixtures.
Prefabricated Restroom Applications and Benefits
Modular restrooms have multiple applications. Places that frequently use these construction options include parks, office facilities, outdoor bars, sporting facilities, and more.  And these commercial uses are only the beginning of modular bathrooms' applications. In many cases, those types of construction use shipping containers as free-standing facilities.
In the National Institute of Building Sciences' 2018 survey, respondents reported the most significant benefits of offsite construction — which includes modular buildings — are a shorter project schedule, high product quality and cost-effectiveness of the process. Some of the most commonly cited advantages of modular commercial bathrooms include:
Commercial Uses for Customized Prefab Restrooms
Modular commercial bathrooms have several uses, including:
Recreational areas like state parks, dog parks, skate parks, and sporting fields are all are perfect applications for shipping container bathrooms. Containers bathrooms are great when people want a more comfortable and permanent option than porta-potties. Not to mention they're better looking!
Owners of outdoor bars and restaurants need an outdoor space for patrons to relieve themselves and freshen up after eating and drinking. If the original structure is already a shipping container, what's better than matching it with another container structure?
One of the most common additions to businesses' facilities when going through expansions are a bathroom. Shipping container restrooms can be built completely custom to your work facilities needs.
Workers in the remote industries such as petroleum and other power generation type sites will especially appreciate the mobile nature of shipping container bathrooms and their ability to deploy to remote locations at rural drill sites.
Benefits of Shipping Container Restrooms
Converted shipping container buildings are useful in many applications — and using them specifically for restrooms can provide many additional advantages. These include:
Public Uses for Modular Bathrooms
Public places — such as government office buildings — can also enjoy the benefits of modular restrooms.  Government agencies at all levels need to wisely use the money they have to remain accountable without sacrificing quality. Opting for bathroom modules for government offices can speed construction while saving taxpayer dollars in the process.
Decision-makers for the construction of local city halls, tax offices, public hospitals and even public schools should also consider the benefits of modular bathrooms. These fully functioning facilities often cost less compared to on-site construction. They look identical to traditionally installed units once in place, and the bottom line will be markedly better in cost savings.
Another use of modular bathrooms is to provide convenience at outdoor venues. Free-standing shipping container restrooms are especially popular for this purpose. Places such as public parks and school sporting venues can incorporate prefabricated public restrooms made from converted shipping containers.
Is Custom Designing Available for Shipping Container Bathrooms?
Not all public restroom companies allow you to customize your bathrooms. Some offer only a small handful of premade standard designs to choose from. But what if you want a bathroom that goes beyond those cookie-cutter models? Every business is different, and the shipping container bathroom design you select needs to reflect the needs of those who will use it. Full customization is the best choice for a modular bathroom.
Because commercial structures must adhere to standards such as ADA regulations, you should discuss your intentions for the restroom with the manufacturer. Adding ramps and accessible stalls, among other adaptations, will ensure your bathroom stands up to building codes.
Custom designing gives you the chance to adapt the building to your climate, too. You can integrate an HVAC system to keep the interior of the bathroom comfortable for all who use it.
Adding extra insulation for humid or frigid climates can improve the system's performance and interior comfort levels. A skylight also increases the HVAC system's efficiency by bringing in natural light without privacy-interrupting windows. It can even improve the warmth inside the restrooms during the winter by allowing sunlight inside.
Even your shipping container doors are customizable. With customization options, you can replace the traditional container entries with standard swinging doors for the comfort of the restroom's users. For security, you can choose doors that lock to keep vandals out of the bathroom after your business closes each day.
What Is the Manufacturing Process for Modular Bathrooms?
While every company works differently, our manufacturing process is as follows.
First, you'll tell us what you need and your budget. If you need help, we can give you information about the types of shipping containers available and customization options that fit into your budget and requirements.
If you choose a shipping container restroom, you'll also have the option of how new your framework is. Shipping containers have three statuses that reflect the amount of use they've experienced. They can help you decide on the best container for your project.
New: New models have experienced the least use, with no more than one trip.
Used: Typically, used models only have cosmetic damage after three to seven years at sea.
Retired: The low price for retired shipping containers comes at the cost of having to do extensive repairs to bring them to useable condition.
If you need a modular design to incorporate into your construction, let us know. Also, specify your commercial use for the bathroom so that we can ensure building to code.
After selecting the exterior, you'll need to choose how you want your bathroom customized. We'll go through your options, and you can identify the components you want to make the facility useful and comfortable for those who will need it. We will then give you a timeline for your restroom's completion.
What Delivery Options Are Available?
Once you have placed your order, we will then piece together the required parts at our facility and prepare the unit for delivery. In the meantime, take time to ready the delivery site. Clear the area and raise the land to prevent flooding. Install a slab foundation if you prefer. Shipping container bathrooms can also sit atop concrete blocks. Allow plenty of room for the delivery truck to reach the site.
The prefabricated public restrooms will almost be entirely ready for use when they arrive. After we deliver your shipping container bathroom, you may need to connect it to plumbing and electricity, depending on the options you chose. Add any desired landscaping at the end of the process to complete the finished look of the area.
Delivery options depend on your location and what you order. If you need more information about how and when we can deliver your restrooms, talk to one of our experts at BMarko Structures.
Looking for something else?
Modular bathrooms are completely custom-built, and nearly all of the design features are up to you. If you'd like to add or modify something that you don't see here, chances are, we can probably do it. Give us a call at (678) 666-3688 to learn more.
Who Can You Contact for Modular Restrooms?
Do you need to find a shipping container bathroom for sale? Instead of sticking to standard options, get the bathroom you want with our fully customizable designs.
To get started on your order, contact us at BMarko Structures. We have shipping containers as well as steel and wooden modular solutions for your restroom needs. Tell us what you need, and we can work on getting you the custom rooms that you want.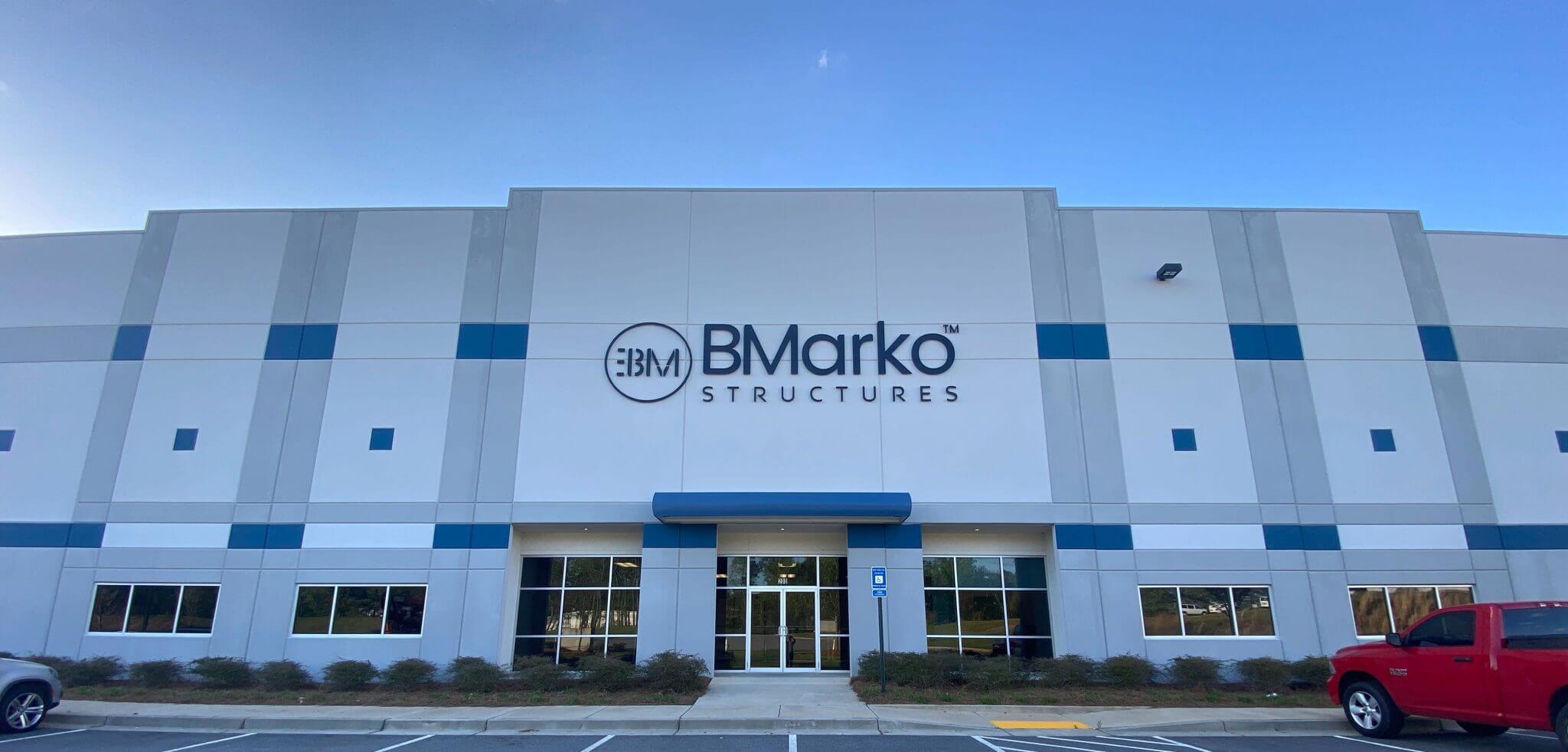 "When we needed a design and build team BMarko was the group that fit perfect for what we needed. BMarko made this happen. Throughout the project we found BMarko's design and build team to be responsive on quality, design and able to deliver the finished product on time. BMarko was great to work with from start to finish."
"Antony's knowledge and design helped immensely in our initial structure. We have ordered 6 units, each is exactly to spec and is impeccably made. Of others we have looked at Bmarko is the best quality and the fastest delivery."
"Thanks for another successful project. Once again, great quality and on time delivery."