Portable Concession Stands
BMarko Structures ™ offers you a better way to build your next portable concession stand. Modified shipping containers deliver a durable food stand you can rely on for years to come. Our shipping container concession stands offer climate-controlled environments, running water, and electricity. We work on 100% custom designs. Get started on your new portable concession stand, today!
Fill Out Our Contact Form Below To Get Started!
Portable Concession Stands & Snack Bars
Fast and affordable, modular construction is the ideal choice for a concession stand in a baseball field, concert venue or other setting.
BMarko Structures specializes in the design and manufacture of portable concession stands from custom shipping containers. Our products offer exceptional value without sacrificing comfort or functionality. They're also a great choice for the environment!
Keep reading to learn more about the design and build processes associated with creating a custom concession stand for your venue.
Building Your Prefabricated Concession Stand
The first step in the portable concession stand construction process is to determine your desired footprint. The shipping containers that form the basis of our designs come in 20′ or 40′ lengths, and they are typically 8′ wide by either 8'6″ or 9'6″ high. Most portable concession stands are fairly simple and require only one container, but we also have the expertise to create a more complex design. Check out our online portfolio to get inspired by some of the projects we have previously completed for our clients.
We also offer various options to further customize your portable concession stand. Depending on how and where you plan on deploying your stand, we can add insulation and air conditioning, windows and doors, drywall paneling and more. Whether you want to keep your design simple or want a more comfortable and classy space, our products are fully customizable and offer exceptional value.
Benefits of Portable Concession Stands
Modular construction is gaining in popularity for everything from athletic facilities and press boxes, to restaurants and more. For a portable concession stand, there are multiple reasons why building modular is the best choice for any budget. 
Shipping container portable concession stands can be either mobile or stationary, meaning you can get one that you can take from venue to venue easily or you can order one that will remain at a single location permanently. Regardless of whether you choose to use a portable or stationary shipping container concession stand to launch or expand your food concession business, the benefits of having this type of concession stand over a stick-built wooden concession stand remain the same.
The benefits of shipping container portable concession stands include the following:
Pest Resistance
Wooden structures sometimes attract pests that feed off or live in the materials made to construct the buildings, including termites and carpenter ants. While it's possible to deter pests from a wooden concession stand through various means such as staining it, you wouldn't have to take such measures if you had a shipping container concession stand. In addition to supportive C-channels, the floor of a modified shipping container consists of panels of plywood. Before they attach the wood to a container's floor beams, these panels are treated with a varnish that is pest resistant. With pest-resistant flooring and a steel casing, shipping container concession stands are resistant to bugs as a function of their construction.
Why A Shipping Container Concession Stand?
Portable concession stands are prevalent throughout the United States. You'll commonly find portable concession stands at local and regional events such as street fairs, music fests and farmer's markets. You'll also probably see concession stands for high schools when you watch a hometown football or baseball game. Concession stands are sometimes present in the parking lots of non-competing businesses such as hardware stores or gas stations, too. You'll see permanent concession stands in highly trafficked venues such as airports, movie theaters, professional sports stadiums and entertainment arenas as well.
Incorporating concession stands contributes to the bottom line of certain industries significantly. The 2013 Airport Concessions Benchmarking Survey drew on data from 94 airports responsible for 79 percent of passengers in America and 48 percent of passenger traffic in Canada. The report shows that airport terminal concession revenue totaled $1.54 billion in 2012, with food and beverage sales in airport terminals located in the United States contributing 35 percent of that total.
Concession stands are responsible for about 40 percent of the net revenue generated by movie theaters. Like stands in other industries such as the movie theater business, food and beverage concession stands at Major League Baseball parks throughout the country have average profit margins that would make many business owners in other industries envious.
Here is a list of some popular food items sold at professional baseball stadiums and their respective profit margins:
Nachos: 47–64 percent
Hot Dogs: 62–81 percent
Pizza: 69–75 percent
Small Popcorn: 82–87 percent
Large Popcorn: 88–92 percent
Snow Cones: 92–97 percent
With profit margins as high as 97 percent, it's clear that you have the chance to make money by operating a food concession stand if you have the right location, an attractive, clean structure, a steady flow of customers and reasonable ongoing operating costs. What isn't as obvious, however, are the intrinsic benefits that being in this business provides.
In an interview with StartingABiz.com, industry insider and author of Food Booth: The Entrepreneur's Complete Guide to the Food Concession Business, Barb Fitzgerald shared the following thoughts:
"I think the food concession business is different from any other business. The one thing, nearly anyone can run a concession business. You don't need to have any kind of experience or a college degree — you don't even need to be a good cook. It's also good for people who want a business that doesn't take up all of their time because it can be customized to suit their lifestyle.
For example, some people use a concession to supplement their income and for paying for college, and others might use a concession as a backup in case they lose their job, or because they've become unemployed. And I see a lot of retirees who use a concession as an excuse to travel. But for many people, the concession is their sole source of income. I also see a lot of families who get involved in the concession business because the entire family can participate, including the kids. I think it's the perfect family business. There's no other business I know of that you can start so easily but still make so much money. It's also a lot of fun."
Concession Stands for Sporting Events and Other Activities
Depending on the venue you're visiting or the event you're attending, you may see food concession stands housed by tents or wooden structures. If you're at a professional sports stadium or arena, the park's cement interior likely contains the concession stands. While concession stands operators generally have to rent the space where they're selling food.
Whether you're thinking about opening one high school concession stand or multiple stands for sporting events, there is an alternative to using a tent, stick-building a wooden facility or renting a brick-and-mortar concession stand – shipping container concession stands.
A shipping container concession stand is exactly what it sounds like. It's a stand created by using a re-purposed shipping container from the goods transportation industry. You can choose to have your portable concession stand made from a "new" shipping container that has only made one trip across the ocean or you can opt to use a less expensive "retired" container that has been on multiple voyages during its transportation career. Both types of containers are equally durable, but retired containers may have a ding or a dent that often lends some added character to structures made with them.
In general, shipping containers are a standard size, so that they're easy to load onto ships and fill with similar amounts and weights of products. This standardization makes them ideal for building because their shared characteristics make them somewhat similar to literal building blocks that all have the same look, measurements, and capabilities. This means that if you want multiple portable concession stands that have the same design so that they are easily identifiable by consumers, custom shipping containers are an ideal choice. It also means that if you want a larger concession stand made from more than one shipping container, you can use multiple containers that have the same physical traits to create an expanded horizontal work area or a vertical storage area.
Whether they are new or retired, shipping containers typically have the following features:
High cube ceiling height of nine feet, six inches


Length that equals one of the following increments:

10 feet
20 feet
30 feet
40 feet



Vertically stackable, capable of supporting 200,000 pounds of weight without an increased horizontal footprint


Available exterior insulation options as well as space-saving narrower studs


Can be used to create a new structure or as additions to existing buildings
Customizing a Shipping Container Concession Stand
If you're going into the food and beverage concession business or you're planning to expand your current operation, you are going to have specific needs when it comes to your concession stand. These needs will be determined by a variety of factors, including your intended location, the food and drinks you're going to sell, the audience you hope to attract and whether you want a mobile or stationary concession stand, among other considerations.
Satisfying the individual requirements of clients located throughout the country from its Atlanta, Georgia headquarters, BMarko Structures can customize a shipping container concession stand to your exact standards. We can add vinyl flooring to guard against moisture, glass doors for a transparent operation, insulation to keep heating and cooling costs low, air conditioning for comfort, an indoor restroom for your convenience…the list of what we can do is nearly endless.
Regardless of whether you're going to offer gourmet fare or less complex food and beverage items, we can tailor custom shipping containers to house your operation with the work area and storage space you need to get your business up and running. When it comes to making the appearance of your concession stand eye-catching, we can customize the exterior of your shipping container concession stand to be distinctly different from your competitors.
Our in-house structural engineers will work with you to realize your dream of operating a concession stand from the moment you first contact BMarko Structures. We'll also help you get started faster by doing more than "just" constructing your fully customized shipping container concession stand in less time than it would to stick-build one on-site. We'll also take care of getting the permit you'll need for your new concession stand, saving you valuable time and sparing you the headaches from all the paperwork.
To learn more about what we can do for you, give us a call, reach out to us online by completing a request for a free quote at the form below. From conception and visualization through project completion, we look forward to working with you to create the customized shipping container concession stand you've been looking for. Contact us today!
Georgia's Portable Concession Stand Experts
BMarko is a recognized innovator in the field of modular design and modification. We're based in Atlanta, but our concession stand constructions can be shipped throughout Georgia and the rest of the country. Our designs can be customized with weatherproofing, insulation, and heating and cooling systems, making them suitable for use in any climate.
If you're looking for an attractive, economical and eco-friendly alternative to traditional construction, contact us today or if you rather speak to someone personally, call a BMarko sales representative at (678) 666-3688!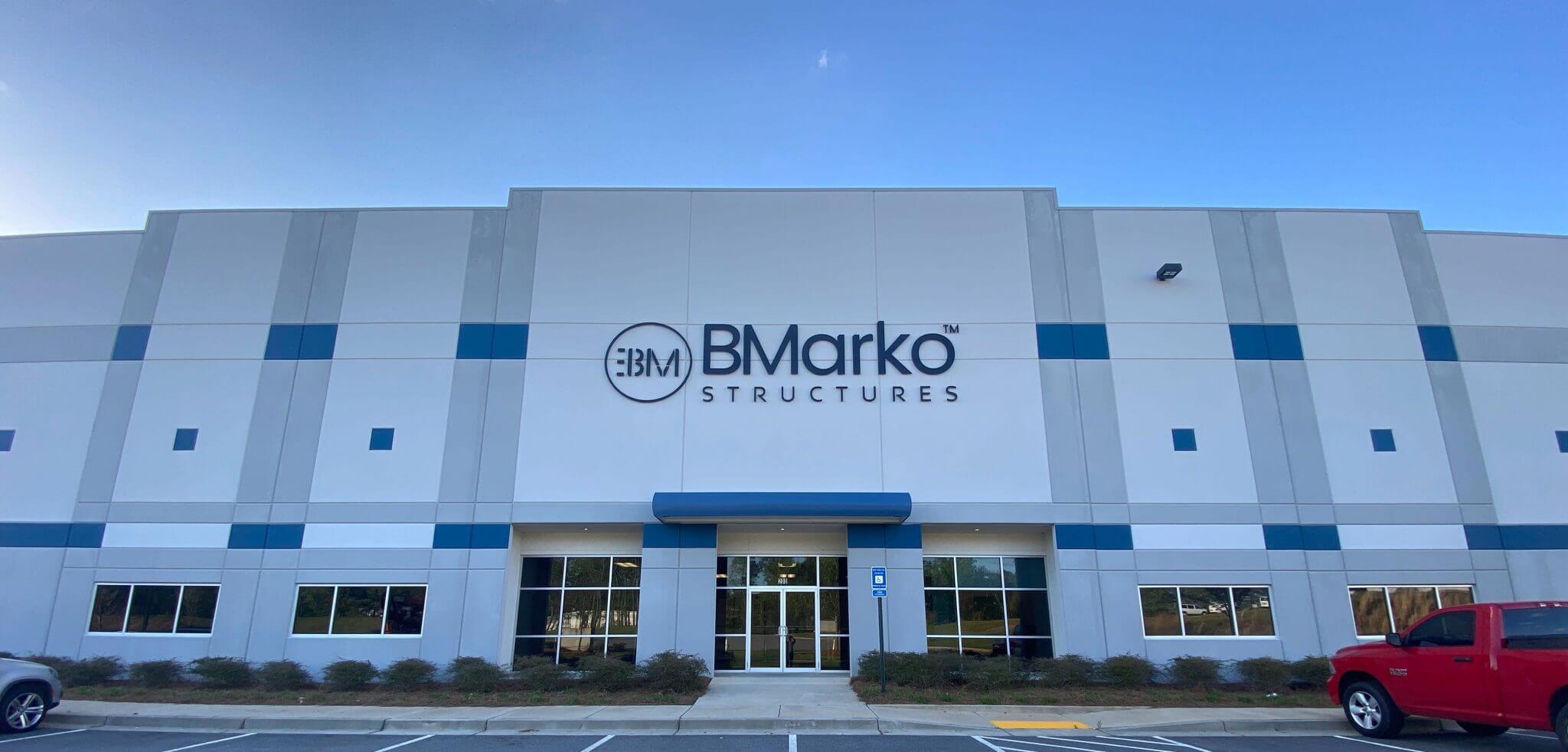 Looking for something else?
BMarko Structures prefab concession stands are completely custom-built, and nearly all of the design features are up to you. If you'd like to add or modify something that you don't see here, chances are, we can probably do it. Give us a call at (678) 666-3688 to learn more.  
"When we needed a design and build team BMarko was the group that fit perfect for what we needed. BMarko made this happen. Throughout the project we found BMarko's design and build team to be responsive on quality, design and able to deliver the finished product on time. BMarko was great to work with from start to finish."
"Antony's knowledge and design helped immensely in our initial structure. We have ordered 6 units, each is exactly to spec and is impeccably made. Of others we have looked at Bmarko is the best quality and the fastest delivery."
"Thanks for another successful project. Once again, great quality and on time delivery."