Shipping Container Press Boxes
Thinking of adding a press box to your stadium, rink or field?
BMarko Structures is one of the nation's leaders in manufacturing modular buildings and structures. With our on-time guarantee, your new press box will be ready well before it's needed for the kickoff of your team's season.
Fill Out Our Contact Form Below To Get Started!
Prefabricated Press Boxes
BMarko Structures can help match you with a unique press box design that will impress and dazzle visitors to your sports arena. It will also provide an efficient workspace for journalists and media professionals to observe sporting events and craft their stories. We have the ability to create comfortable, attractive, and highly functional modular press boxes for clients across the country. Our products, which are built using repurposed custom shipping containers offer a faster time to completion and complete design flexibility, allowing our team to create a baseball, soccer,  football, etc. press box to your exact specifications.
How Much Does A Press Box Cost?
The Eco-Friendly Choice That Doesn't Sacrifice Quality or Comfort
BMarko's modular press boxes are completely customized to meet your specifications. Our structural engineers are able to accommodate almost any potential layout including building an add-on like bleachers. Need to link two press boxes together for additional space? No problem — shipping containers are highly adaptable structures that link together well and stack exceptionally. The benefits of modular press boxes include a decreased construction time — without sacrificing quality.
Installation of a modular football or baseball press box in your sports arena is also a smart, eco-friendly choice. By opting to use a repurposed material, you're keeping perfectly usable steel out of the waste stream and halting the production of toxic chemicals involved in new construction builds. Your visitors will appreciate your commitment to making the world a cleaner, more healthful place.
Many people are surprised to discover how comfortable and modern a custom press box can be. In fact, a modular press box can contain just about everything you'd normally find in a conventionally-built press box. Our press box features a high-end interior. You have your choice of insulation, framing materials, and wall coverings. Your custom press box can be fully wired to support power, Internet and A/V connectivity. Several flooring and wall options are available, and you can pick from a menu of window and door designs that let in natural light and fresh air. In addition, our modular press boxes are visually striking. Their distinctive appearance will grab the attention of your visitors and leave them with a lasting impression they won't soon forget. A modular press box from BMarko can essentially be anything you want it to be — for inspiration, view images of projects we've completed in the past.
Modular construction is a growing market, with a lot of companies claiming to offer the best designs and most in-depth expertise. Here's what makes BMarko stand out from the competition:
Every press box for sale is built from the ground up to be unique. Unlike other companies, we don't force your vision to conform to our press box design. Football or baseball arena owners instead get customized modular press boxes to fit their exact specifications. We encourage you to awaken your inner architect and work with us to craft a comfortable, inviting, stylish unit. Visitors to your site will applaud your bold aesthetic choice to create a one-of-a-kind facility.
Our team includes in-house structural engineers who can solve the most complex design problems with your football or baseball press box plans. Prefer to combine press boxes, bleachers, and spectator stands in one? We can do that. Want a press box smaller or larger than the standard shipping container size? Shipping containers generally come in 20' and 40' foot lengths and are 8 feet wide, but we can connect multiple units together or cut a single unit to your specifications. We'll help you realize your aesthetic dreams and will do what it takes to make sure you're satisfied with the result.
We take care of everything. Our complete turnkey services include sourcing the raw materials, creating and certifying the design, installing the completed product on-site and taking care of any required permitting if necessary. Running a business is hard work, and running a smoothly operating sports arena requires your full attention and effort. Let us help you alleviate some stress by managing your press box build from start to finish.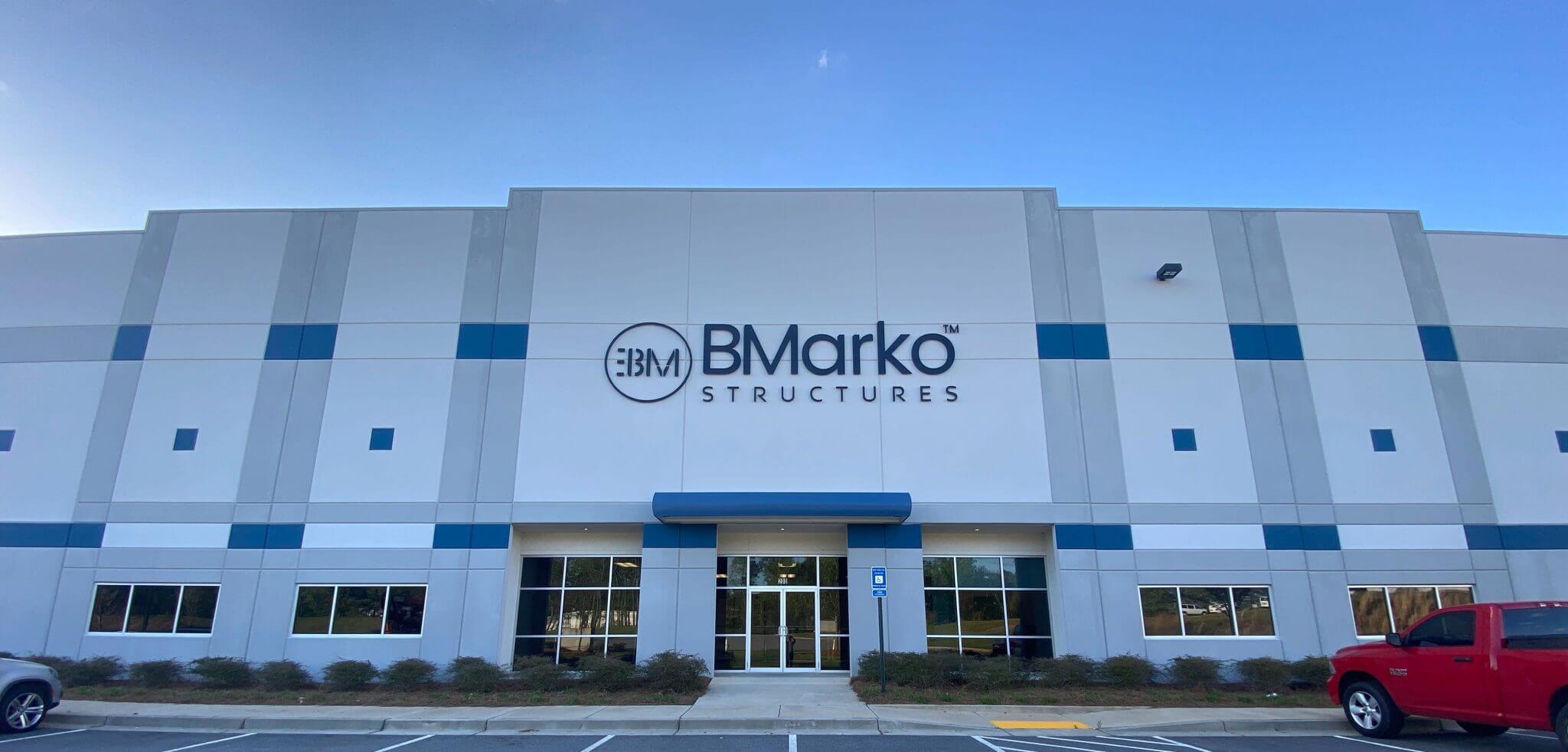 Although we are headquartered in Atlanta, GA, we have the capability to provide our services and products nationwide; serving all areas with modular buildings for commercial and residential use. BMarko has completed a number of press box constructions in the state of Georgia and beyond. We are fully equipped to take on your project and are happy to review your requirements and provide a free quote. From start to finish, we'll deliver exceptional customer service and proven expertise, helping you complete your press box build in the most economical and efficient manner possible.
To learn more about how BMarko can help you design an excellent modular stadium press box, baseball athletic rooms, concession stands, or other modular stadium needs, contact a BMarko sales representative today at (678) 666-3688!
"When we needed a design and build team BMarko was the group that fit perfect for what we needed. BMarko made this happen. Throughout the project we found BMarko's design and build team to be responsive on quality, design and able to deliver the finished product on time. BMarko was great to work with from start to finish."
"Antony's knowledge and design helped immensely in our initial structure. We have ordered 6 units, each is exactly to spec and is impeccably made. Of others we have looked at Bmarko is the best quality and the fastest delivery."
"Thanks for another successful project. Once again, great quality and on time delivery."