Shipping Container Office
BMarko Structures ™ offers you a better way to build your next office. Modified shipping containers deliver a durable mobile office you can rely on for years to come. Our container offices offer climate-controlled environments, restrooms, work stations, and electricity. We work on 100% custom designs. Get started on your new shipping container office, today!
Fill Out Our Contact Form Below To Get Started!
Shipping Container Office Buildings
Today's businesses are focused on finding sustainable solutions to infrastructure problems.
For a business, sustainability encompasses not just protecting the environment but also making wise decisions that position your organization for long-term success. It's difficult to find solutions that strike a balance between eco-friendliness, operational efficiency, and aesthetic distinction.
In all of these measures, there is a clear benefit to growing your business by housing it in a shipping container office. This forward-thinking choice represents the best of sustainable ideals.
Build on a budget with a modular office space from BMarko Structures! When you need to expand your employees' small working area quickly, modular construction is the easiest and quickest way to do so. Best of all, you don't need to sacrifice style or creature comforts — our build process gives you the freedom to design the space you need, without giving up all the benefits of going modular.
What Are Shipping Container Offices?
Atlanta, Georgia's BMarko Structures delivers high-quality modular building solutions for a wide range of industries. We provide portable custom-built shipping container offices to clients around the country who rely on us for our design expertise and our commitment to customer service. We take pride in our mission to awaken our clients' inner architects and guide them through the manufacture of their ideal buildings.
Modular office spaces can be built on your existing property as a separate outbuilding, an extension of your current facilities, or even a rooftop structure on top of your current building. Find out how to build a shipping container office that's bespoke by speaking with a BMarko Structures representative today!
Let's examine the different aspects of shipping container modifications and consider how a BMarko modular unit can benefit your business. 
Benefits of Shipping Container Offices
There is no shortage of reasons why a custom shipping container office building is a great choice for your business. When you invest in a BMarko modular office, you'll benefit from:
Choosing a Shipping Container Office
Practically any shipping container can make an excellent base for a modular office, construction office, mobile office, or any other commercial building. A newer container will require less work to get into usable shape but will be more expensive to purchase. On the other hand, while older containers may have rust, dents, or other issues that require cleaning up, they are typically available on sale  for less money. They also carry a unique charm that can help add to the curb appeal of your organization and generate interest from passers-by.
Containers generally fall into one of three categories: new containers, which have only made one trip overseas; good condition used containers, between 3-7 years old but are still cargo-worthy; and used-retired containers, which have reached the end of their shipping life, typically after 12-15 years of service. Used-retired containers may contain welded patches, but these welded patches are designated both wind- and water-tight. BMarko can help you assess your needs and your budget & source the right containers for your build from our network of trusted suppliers.
The other major consideration when you want to design a container office is finding a size that fits your business's needs. Shipping containers come in a wide range of standard and non-standard sizes, though modular building components typically start with units either 20′ or 40′ in length, 8′ wide and 8'6″ or 9'6″ tall.
However, this doesn't mean that a shipping container office is limited to one of these sizes. Containers can be placed in a variety of configurations to create the perfect converted container office. They can be placed side by side for extra floor space, stacked on top of one another to create new levels, or linked in another way to maximize space and storage for your business. The modular construction process offers a large amount of engineering flexibility for any client who wants to customize their container office space design. Find out more by speaking with one of our team members directly.
Building Shipping Container Office Space
Many of our modular office building components are built from used shipping containers that have been restored and repurposed to serve as a functional building shell. Aside from the environmental benefits of using recycled materials, shipping container offices are economical and present a wide range of design possibilities. Capable of withstanding a static weight of up to 213,000 lbs., they can be stacked on top of one another or placed side by side for additional space. Best of all, thanks to their modular design, expanding is easy if you ever need to grow your business even further.
Modular Construction Is the Fastest Way to Build a New Office
When you need to get up and running in a new space quickly, there's no better partner than BMarko. Our modular office buildings have one of the fastest turnaround times in the business. Each component is delivered to the job site with most of the important work — such as installing the walls, flooring, plumbing, and electrical connections — already completed. This reduces the amount of time it takes for your shipping container home office to open up for business, and it keeps the cost of labor during installation low.
Once the job is done, you'll end up with an attractive, highly functional space that's been designed from the ground up to provide years of reliable use.
Building Sizes and Design Options
Shipping containers come in 20' and 40' lengths. Most are 8' wide and either 8'6" (standard) or 9'6" (high cube) tall. However, these standard dimensions don't restrict the design possibilities of a modular office building. BMarko offers both single and multiple units. Units can be placed together or stacked beside one another for additional floor space. Layout configurations are limitless, and many individual components can be customized to suit your purposes:
Container walls can be finished with wood or metal studs. On top of that, drywall or other paneling can be installed. For additional interior space, insulation can be placed below or on the outside of the container. Most containers will have plywood flooring that can be finished or replaced with a cost-effective laminate.
Modular offices can be customized with several types of windows to create a bright, airy space your staff will enjoy. Shipping containers can support single or double pane glass, as well as metal or glass doors of varying sizes.
BMarko can equip your modular office with a high-efficiency through-the-wall unit or ductless HVAC system that provides year-round comfort in any weather. Modular office spaces are also great candidates for solar power and other renewable energy sources.
BMarko isn't the only company that offers modular office spaces, but we do pride ourselves on delivering the best combination of value and innovation for your money. Located in Atlanta, Georgia, we offer delivery of completed modular components to job sites around the country and provide local support for obtaining the permits necessary to build in your municipality.
We have the expertise and design flexibility to create custom spaces that go beyond what most people envision when they think of modular construction. Find out more about our shipping container conversions by contacting our office and speaking with an engineer today.
Looking for something else?
Shipping container offices are completely custom-built, and nearly all of the design features are up to you. If you'd like to add or modify something that you don't see here, chances are, we can probably do it. Give us a call at (678) 666-3688 to learn more.  
Build Your Container Office With BMarko
At BMarko, we're committed to delivering the best possible experience for our customers. We'll work with you to develop a custom shipping container building design that keeps your team productive and comfortable. We can quickly turn around individual modular components and deliver them to your property in a timely fashion. We'll even help you obtain the permits necessary to complete your build without delay. In addition, we can deliver your custom-made office to nationwide locations.
To learn more about the details of how a shipping container office is built and the benefits and possibilities that await your business, contact us today!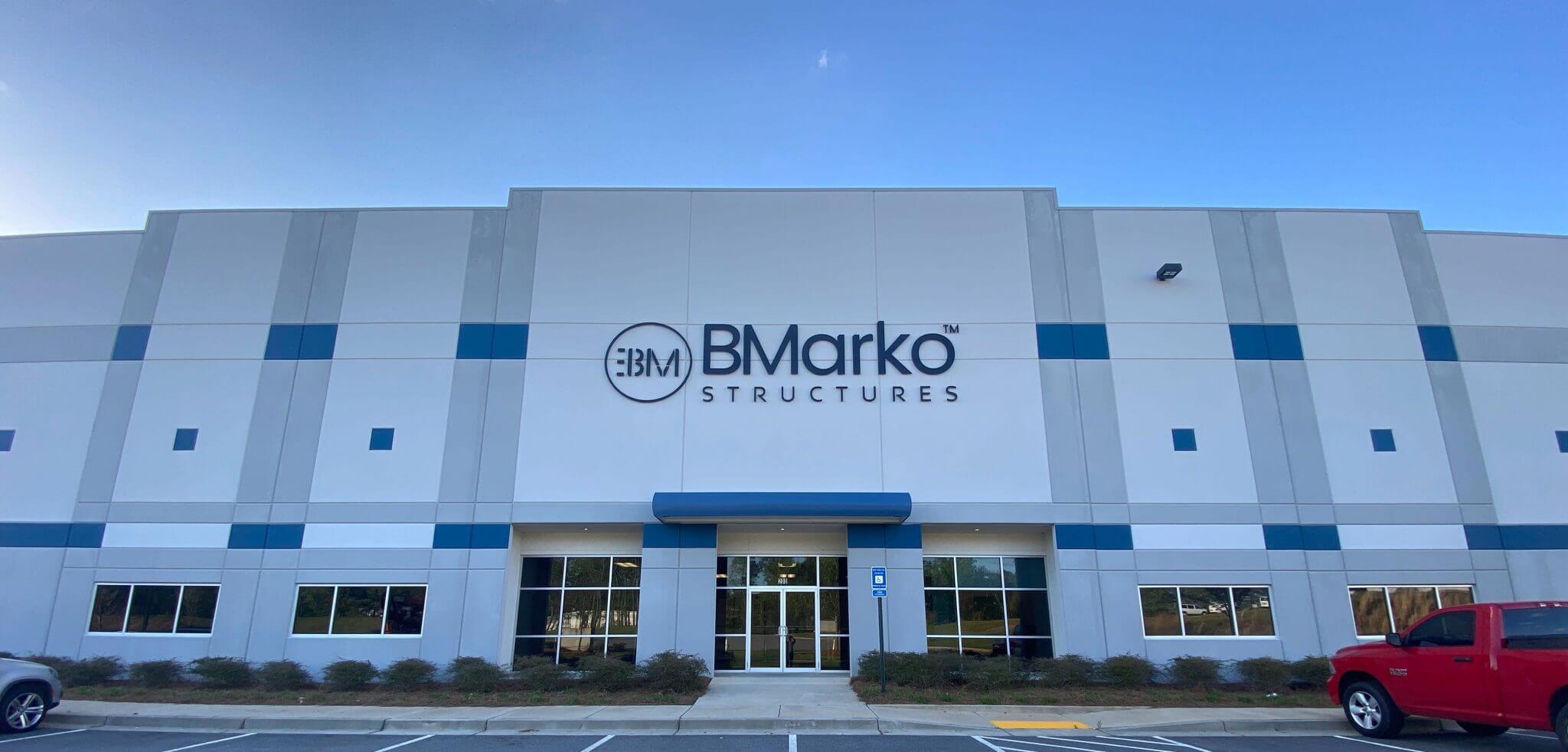 "When we needed a design and build team BMarko was the group that fit perfect for what we needed. BMarko made this happen. Throughout the project we found BMarko's design and build team to be responsive on quality, design and able to deliver the finished product on time. BMarko was great to work with from start to finish."
"Antony's knowledge and design helped immensely in our initial structure. We have ordered 6 units, each is exactly to spec and is impeccably made. Of others we have looked at Bmarko is the best quality and the fastest delivery."
"Thanks for another successful project. Once again, great quality and on time delivery."